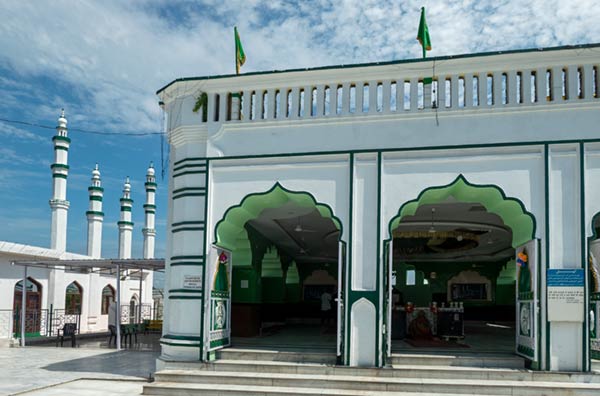 Shrine of Peer Baba Budhan Ali Shah, pilgrimage site, near Jammu City airport
(
Jammu Photo Gallery
)
The Shrine of Peer Baba Budhan Ali Shah is a popular pilgrimage site located near the Jammu City airport in the state of Jammu, India. The shrine is dedicated to Baba Budhan Ali Shah, a Sufi saint who is highly revered by both Hindus and Muslims in the region.
The shrine has a significant religious and spiritual significance for both Hindus and Muslims. Baba Budhan Ali Shah is believed to have possessed extraordinary spiritual powers and is said to have performed many miracles during his lifetime. Many people visit the shrine to seek his blessings for their personal and spiritual needs.
The history of the shrine dates back to the 17th century, when Baba Budhan Ali Shah arrived in the region and started preaching Sufism. The shrine was built in his memory after his death, and it has since become a popular pilgrimage site for people of all religions.
The architecture of the shrine is unique and reflects a blend of Hindu and Islamic styles. The shrine complex consists of a large prayer hall, a courtyard, and a tomb of the saint. The walls of the prayer hall are adorned with intricate carvings and paintings, depicting scenes from the life of Baba Budhan Ali Shah.
The shrine is located in a scenic location surrounded by lush green hills and forests. The topography of the region is hilly and the area is rich in flora and fauna. Many people who visit the shrine also take the opportunity to explore the natural beauty of the region.
The site is used for pilgrimage by people of all religions, who come to seek the blessings of Baba Budhan Ali Shah. Historically, the site has been used as a place of worship and spiritual retreat by Sufi mystics and ascetics. In the present day, the site attracts a large number of devotees and tourists, especially during important festivals and events. The annual Urs festival, held in the memory of Baba Budhan Ali Shah, is a major attraction that draws thousands of people to the shrine.
Chronology
Pre-14th century: The origins of Peer Baba Budhan Ali Shah's life and teachings are unclear and surrounded by legends.
14th century: Peer Baba Budhan Ali Shah is said to have traveled to India from Iraq and settled in the region of Jammu and Kashmir.
Late 19th century: The current shrine is built by the devotees of Peer Baba Budhan Ali Shah.
Annual: The annual Urs festival is held at the shrine to commemorate the death anniversary of Peer Baba Budhan Ali Shah. The festival is marked by devotional music, poetry, and offering of food to the poor.
Ongoing: The shrine continues to attract devotees from various religions, particularly Muslims and Hindus, who seek blessings and healing.
Additional Links: