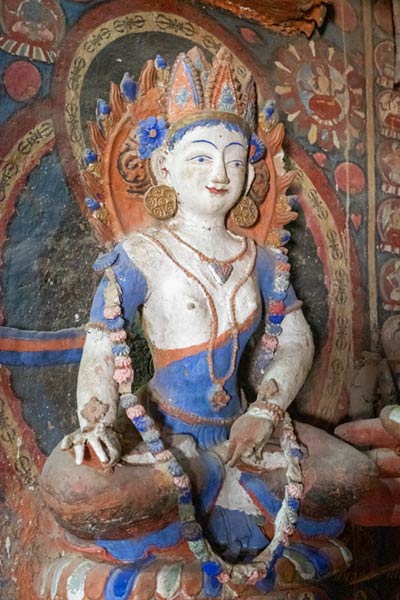 Statue of Lady Manjushri, Alchi Gompa (
Ladakh Photo Gallery
)
Alchi Gompa is an ancient Buddhist monastery located in the Ladakh region of India. The site is considered significant to both the Buddhist and Hindu traditions, as it houses a blend of Indian and Tibetan art and architecture. The monastery is believed to have been built during the 10th century by the Great Translator Rinchen Zangpo, who introduced Buddhism to Ladakh.
The monastery complex comprises three main structures - the Dukhang (assembly hall), Sumtsek (three-tiered temple) and Manjushri temple, along with a number of smaller buildings and chortens (stupas). The buildings are constructed using mud and bricks, and are decorated with elaborate paintings and sculptures that depict Buddhist teachings and legends. The murals inside the monastery are considered to be some of the oldest surviving examples of Tibetan Buddhist art in the region.
Alchi Gompa is unique in its architectural style, as it blends Indian and Tibetan styles to create a distinct Ladakhi form. The site is considered an important example of early Tibetan Buddhist architecture, as it predates the later Tibetan monasteries that are more commonly associated with the region.
The monastery is located in the Alchi village, which lies on the banks of the Indus River. The surrounding landscape is rugged and mountainous, with the Ladakh range rising in the distance. The area is home to a variety of flora and fauna, including the snow leopard, Himalayan ibex, and Tibetan antelope.
Historically, Alchi Gompa served as a place of worship and learning for Buddhist monks and pilgrims. The site is believed to have played a role in spreading Buddhism to the surrounding areas, and it is said that Guru Rinpoche himself visited the site and left behind relics. Today, the site continues to attract visitors from around the world who come to admire its unique architecture and artwork, and to engage in meditation and spiritual practices.
Chronology
958-1055: Alchi Gompa was founded and built by the translator Rinchen Zangpo during the rule of the Great Translator, King Yeshe Od of the western Tibetan kingdom of Guge.
11th century: The monastery was commissioned by the Tibetan king, Kalden Sherab, who was known for his great devotion to Buddhism and for his patronage of Buddhist art and architecture.
12th-13th century: The monastery underwent renovations and additions during the rule of the Kashmiri king, Zhihadeva, and his successors.
14th century: The monastery was abandoned due to political upheavals in the region.
15th-16th century: The monastery was revived under the patronage of the Ladakhi kings.
16th century: The Sumtsek or three-storeyed temple was constructed by the king of Ladakh, Tashi Namgyal, during this period.
1950s: The monastery was declared a national heritage monument by the Government of India.
Additional Links: