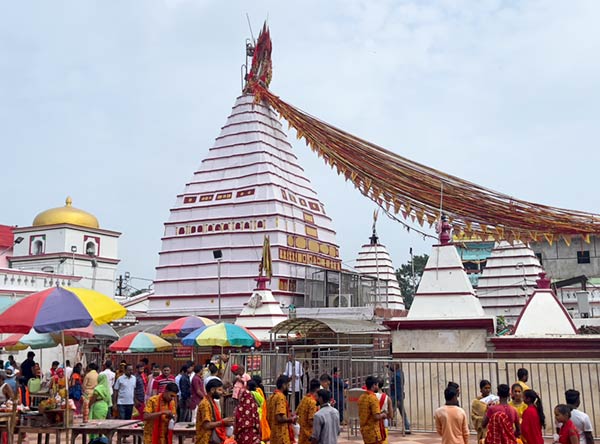 Basukinath Jyotir Linga Temple, Jarmundi (
Jharkhand Photo Gallery
)
Basukinath Temple is a Hindu temple dedicated to Lord Shiva and is located in Deoghar, Jharkhand, India. The temple is considered to be one of the twelve Jyotirlinga shrines of Lord Shiva and is one of the most important pilgrimage sites for Hindus.
The history of Basukinath Temple is not well documented but it is believed to have been established during the 16th century. The temple has been renovated several times over the centuries and the current structure was built in the 19th century. The temple is surrounded by a large courtyard and is known for its intricate carvings and sculptures.
The spiritual significance of Basukinath Temple lies in the belief that Lord Shiva appeared here in the form of a Jyotirlinga, a representation of his divine and pure consciousness. The temple is considered to be a place where devotees can attain salvation and wash away their sins by offering prayers and performing rituals.
Basukinath Temple is a popular pilgrimage destination and attracts hundreds of thousands of devotees from all over India and abroad. The temple is especially crowded during the month of Shravan (July-August), when devotees undertake a pilgrimage on foot from Sultanganj to Deoghar to offer water from the Ganges River to Lord Shiva. This is known as the Shravan Mela and is considered to be one of the largest religious gatherings in India.
Chronology
Legend: Legend has it that Ravana, the king of Lanka, received blessings from Lord Shiva in the form of a lingam at this site.
Legend: According to another legend, the temple was built by King Vasu, one of the five Pandava brothers, during their exile period.
Construction date (unknown): The exact date of the construction of the temple is not known, but it is believed to be several centuries old.
1810: The temple was renovated by Queen Baidyanathi of Chota Nagpur.
1937-1938: The temple underwent major renovations under the guidance of Baba Naginath.
1952: The management of the temple was handed over to the Deoghar Temple Board.
Pilgrimage (Ongoing): The temple is visited by a large number of devotees throughout the year, especially during the month of Shravan, which falls between July and August, and during the Mahashivratri festival in February or March
Additional Information: