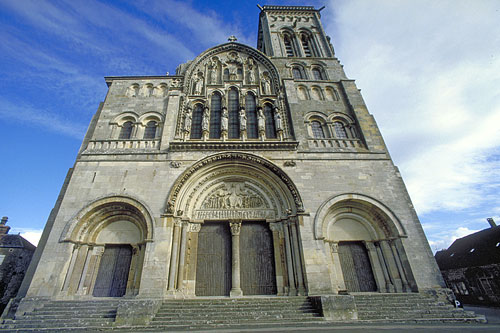 Shrine of Mary Magdalene, Vezelay, France    
The French village of Vézelay, one of the most visited pilgrimage sites of the Medieval Age, is located in an area of significant pre-Christian sanctity. Though the date of the area's original settlement is unknown, its Les Fontaines Salées mineral springs have been favored for their therapeutic qualities since at least the 3rd millennium BC. Celtic presence is evident from the 6th century BC and by the 2nd century BC the Romans had constructed temples and thermal baths. 
Vézelay's Christian history began in 860 AD, when the site was donated by the Carolingian count, Gerard of Roussillon for the purpose of building a Benedictine monastery. Shortly after its foundation, a monk named Baudillon brought relics (said to be the bones) of Mary Magdalene to Vézelay from Saint-Maximin-la-Sainte-Baume. In 1058 the Pope declared the relics to be authentic and a cult of Mary Magdalene began to develop at Vézelay (the presence of a Black Madonna statue contributed to this cult development). Soon thereafter it became an important place of pilgrimage, and it was also a major starting point for pilgrims walking to the shrine of Santiago de Compostela in Spain, one of the most important of all medieval pilgrimage centers.
In addition to its fame as a pilgrimage site, Vézelay has other important historical associations. St Bernard preached the Second Crusade at Vézelay in 1146; in 1166 Bishop Thomas Becket of Canterbury threatened to excommunicate the English King Henry II; in 1190 Richard the Lion-Hearted and Philip II Augustus met there to leave for the Third Crusade; and in 1217 St. Francis of Assisi founded the first French community of Friars Minor. 
The beginning of the decline of Vézelay coincided with the well-publicized discovery in 1279 of the body of Mary Magdalene at Saint-Maximin-la-Sainte-Baume in Provence, given regal patronage by Charles II, the Angevine king of Sicily. When Charles erected a Dominican convent at La Sainte-Baume, the shrine was marvelously found intact, even with an explanatory inscription stating why the relics had been hidden. The local Dominican monks soon compiled an account of miracles supposedly caused that the relics. This discovery seriously undermined Vézelay's position as the main shrine of Magdalene in Europe. Vézelay, however, remained an important place of pilgrimage for the Catholic faithful, though the Protestant Huguenots burned the actual relics in the 16th century.
The Basilica of St. Mary Magdalene is one of the most outstanding masterpieces of Burgundian Romanesque art and architecture in France, and it was added to the UNESCO list of World Heritage Sites in 1979. The site is also called Vézelay Abbey (Basilique Ste-Madeleine); Basilique Ste-Madeleine; La Madeleine; Basilique de Vézelay; Vézelay Basilica; and Vézelay Abbey.