Avila is the capital of Castile-Leon, it is 1117 meters above sea level and the entire city is a World Heritage site.
One of the finest remnants of Europe's medieval era, the walled town of Avila was sacred to an ancient Celt Iberian culture long before the arrival of the Romans or Christians.
The Arab Moors captured the city in 714 AD, it was recaptured by the Christians in 1088, and had its protective walls built in the 12th century.
Extending for 2,500 meters (8202 ft.) and encircling the old town, the massive walls are punctuated by ninety, heavily fortified granite stone towers.
Avila is much visited by tourists today, yet in the late medieval ages its visitors were pilgrims coming to the church in the center of the walled city.
The current church, begun in 1091 and completed in the 13th century, is where the mystic St. Teresa prayed. Nearby the church stands the house where St. Teresa lived.
St. Teresa of Avila
St. Teresa was a Carmelite nun who lived from 1515 to 1582. She had frequent visions and ecstatic experiences and is famous for writing devotional poems dedicated to Jesus.
Another well-known mystic of Avila was San Juan de la Cruz.
Important places to visit in Avila
Museo de la catedral
Diocesan museum
Palace of Nunez Vela
Basilica of San Vicente
Church San Pedro
Church of San Segundo
Chapel of Nuestra Senora de Sonsoles
Other facts about Avila
The city of Avila is sometimes confused with the famous Avila beach.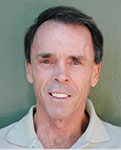 Martin Gray
is a cultural anthropologist, writer and photographer specializing in the study and documentation of pilgrimage places around the world. During a 38 year period he has visited more than 1500 sacred sites in 165 countries. The
World Pilgrimage Guide
web site is the most comprehensive source of information on this subject.
Spain Travel Guides
Martin recommends these travel guides
For More Information: