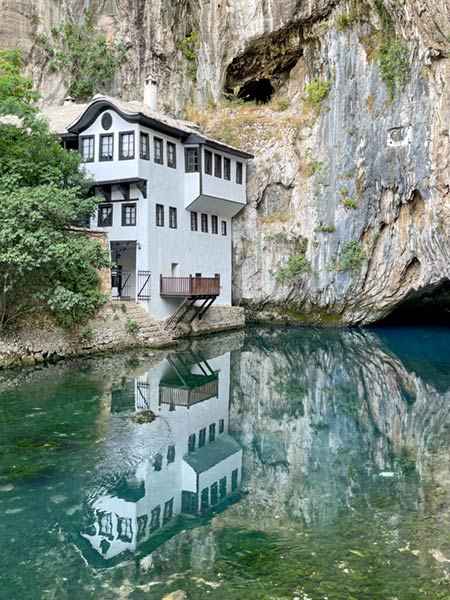 Tekija Vrela Bune Sufi monastery
Tekija Vrela Bune is a Sufi monastery located in the small town of Blagaj, Bosnia. The site holds significance for Bosnian Muslims and serves as a popular pilgrimage destination for both Bosnians and international visitors.
The Tekija Vrela Bune is dedicated to the memory of Sheikh Ahmed Al-Badawi, an Egyptian Sufi saint who lived in the 13th century. The Sufi order, to which the monastery belongs, is known for its emphasis on the mystical aspects of Islam, including the importance of love, compassion and devotion to God.
The history of the Tekija Vrela Bune dates back to the Ottoman period, when it was founded by a wealthy landowner named Ali Dzepcic. The monastery was built on the banks of the Buna River, which emerges from an underground cave system and is believed to be the source of the river. The architecture of the monastery reflects the Ottoman influence, with its stone walls, arched doorways and terraced gardens. The building was constructed in the 16th century, and its design has remained largely unchanged since that time. The monastery is surrounded by lush vegetation, including fig trees, grape vines and pomegranate bushes, which add to the serene atmosphere of the site.
The Tekija Vrela Bune has served as a place of pilgrimage for Sufis, who come to pray, meditate and seek spiritual guidance. The site has also been visited by travelers and scholars, who were drawn to its unique location and rich cultural history. Visitors can tour the monastery, explore the gardens and attend lectures and seminars on Sufism and Islamic spirituality. The site is particularly popular during the annual Ramadan holiday, when pilgrims come to observe the fast and to participate in special religious services. Its historical significance, natural beauty and spiritual atmosphere make it a must-see destination for anyone interested in the culture and spirituality of the Bosniak people.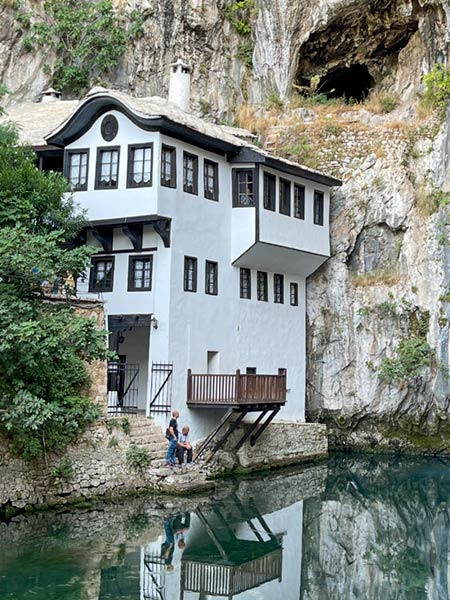 Tekija Vrela Bune Sufi monastery
Chronology
Prehistoric era: The site of Tekija Vrela Bune is believed to have been a sacred place for prehistoric inhabitants of the region.
16th century: The Tekija was built by the Ottomans during their rule in the region, with construction beginning in 1446.
1664: The Tekija was renovated by the dervish order of Hadži Alija during the Ottoman period.
1878: Following the Austro-Hungarian occupation, the Tekija was turned into a Catholic monastery, but it was eventually abandoned in the early 20th century.
1993: The Tekija was partially destroyed during the Bosnian War, but it has since been restored and reopened to the public.
Annual: The Tekija is visited by many Muslim pilgrims during the annual festival of Hadži-Alija Day, which takes place on the first Saturday of August. It is also a popular tourist attraction, drawing visitors from all over the world.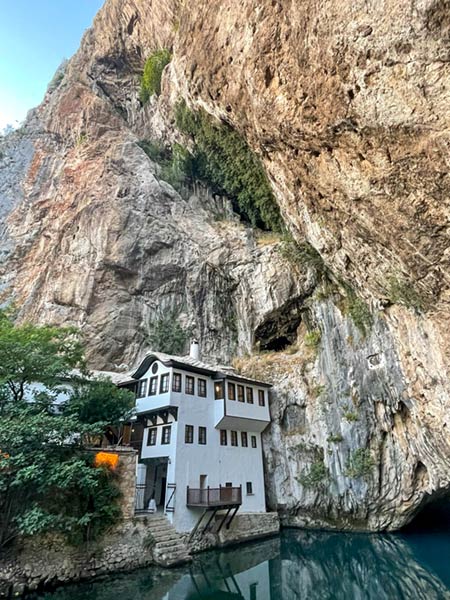 Tekija Vrela Bune Sufi monastery