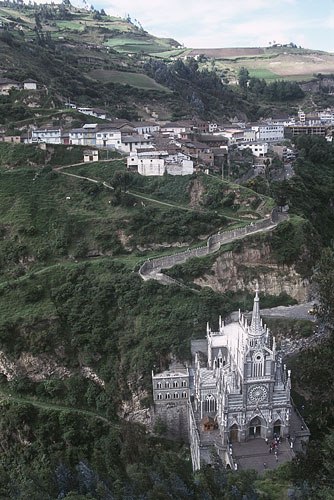 Pilgrimage church of Las Lajas, Colombia
In the remote mountains of southwestern Colombia, the Cathedral of the Virgin of Las Lajas ranks among the most enchantingly beautiful pilgrimage shrines in the world. A scene of fairy tale splendor, its loveliness leaves one breathless. Sparkling white with soaring spires, the cathedral clings precariously to the side of a sheer cliff. The cliff wall rises above the swiftly running Guaitara river, which, in the space of less than a mile, has two sharp S curves through a steep mountain gorge. Two waterfalls flow directly from inside - not over - the jungle covered cliffs, plummeting a hundred feet to the surging river. Rains frequently come and go and lingering mists hide and reveal the church with the quickness of a magician's hands. In concert with the ceaseless rumbling of flowing waters, church bells echo through the mountain valleys.
The sanctuary of Las Lajas is a neo-Gothic cathedral which was built between 1916 and 1944 to commemorate the legendary apparition of the Virgin Mary on the vertical cliff wall 45 meters above the river. According to the legend, in 1754 an Amerindian named Maria Mueces and her deaf-mute daughter Rosa were caught in a powerful storm. They found refuge between the gigantic walls of the gorge, and to Maria Mueces's surprise, Rosa exclaimed "the mestiza is calling me..." and pointed to the lightning-illuminated image on the side of the cliff wall. The oldest account of this legend was recorded in the accounts of Fray Juan de Santa Gertrudis's voyage through the southern region of the New Kingdom of Granada between 1756 and 1762. The cathedral is built in such a way that the gorge cliff with an image of the Virgin Mary forms the back wall of the church. In 1951 the Roman Catholic Church authorized the Nuestra Señora de Las Lajas virgin, and it declared the sanctuary a minor basilica in 1954.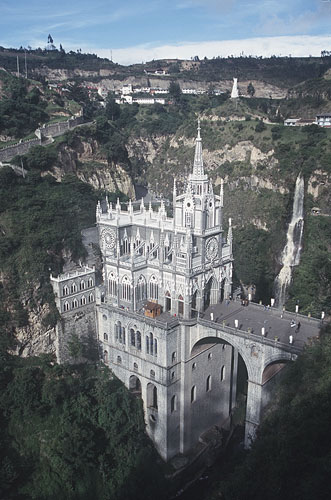 Las Lajas, Colombia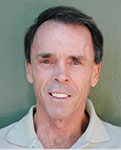 Martin Gray
is a cultural anthropologist, writer and photographer specializing in the study of pilgrimage traditions and sacred sites around the world. During a 40 year period he has visited more than 2000 pilgrimage places in 165 countries. The
World Pilgrimage Guide
at sacredsites.com is the most comprehensive source of information on this subject.