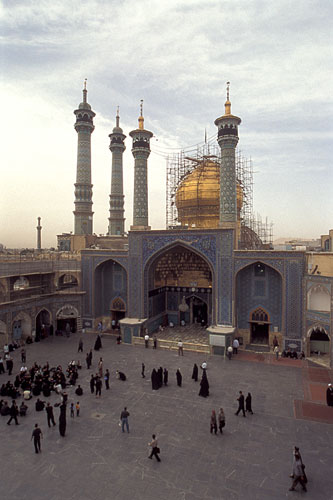 Shrine of Hazrat-e' Masumeh, Qum
The second most sacred city in Iran after Mashhad, Qum is known for its sanctuary of Fatima al-Masumeh ('the Infallible One'). Some scholars believe that Qum, originally called Kumindan, was captured by the Arabs in 644 AD, while others believe it was founded in 712 AD by Arab colonists who had been forced to leave Kufa in Iraq for reasons of their Shi'ite beliefs. However, the ruins of a Sassanian epoch fire temple near the Fatima shrine complex indicate that the site has been inhabited from long before Islamic times. In 816 AD, Fatima, the sister of Imam Reza, was traveling to meet her brother at Mashhad when she became ill at Saveh (Sava), a small town to the northwest of Qum. Fatima managed to reach Qum before she died and her mausoleum soon became a celebrated place of pilgrimage. There is a tradition telling that when Imam Reza was asked whether a pilgrimage to his sister's tomb would be of value, he replied that anyone performing it would assuredly go to Paradise. Also buried in Fatima's tomb are the three daughters of the 9th Imam. Qum and its shrine were plundered during the Mongol invasion of 1221 and by Tamerlane less than half a century later. The city was slowly rebuilt and later described as "a small but handsome town with an abundance of everything and with good bazaars" by two Venetian explorers in 1474. The great shrine complex of Fatima was erected by Shah Abbas I in the early 17th century. As Shah Abbas was desirous that his subjects should go on pilgrimage to places within his empire instead of visiting the Shi'ite shrines of Najaf and Karbala in Iraq (which were in the hands of his enemies the Ottoman Turks), he encouraged pilgrimages to the tomb of Imam Reza in Mashhad and to that of Reza's sister Fatima at Qum. Early in the 19th century, Fath Ali Sha lavishly restored and embellished the shrine and the buildings present today, including the magnificent golden dome, date from his reign.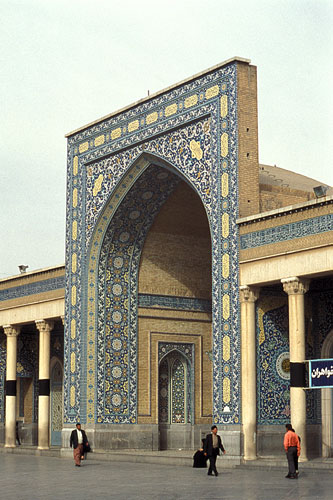 Gateway to shrine of Hazrat-e' Masumeh, Qum

For additional information: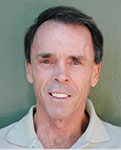 Martin Gray
is a cultural anthropologist, writer and photographer specializing in the study of pilgrimage traditions and sacred sites around the world. During a 40 year period he has visited more than 2000 pilgrimage places in 165 countries. The
World Pilgrimage Guide
at sacredsites.com is the most comprehensive source of information on this subject.