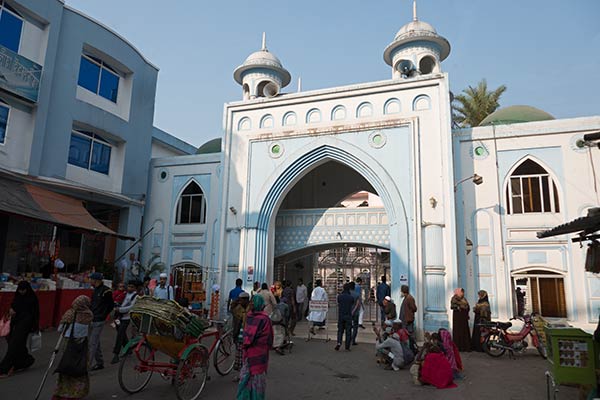 Entrance gate to Hazrat Shah Jalal, Sylhet, Bangladesh (
Enlarge
)
Shah Jalal ad-Din al-Mujarrad al Naqshbandi, popularly known as Hazrat Shah Jalal (1271 – 1346) is a much loved Sufi saint in Bangladesh. Born Shaikh Makhdum Jalal ad-Deen bin Mohammed, he was later affectionately renamed Shaikh-ul-Mashaikh Hazrat Shah Jalal al-Mujarrad (the last name meaning "the bachelor", on account of his celibacy).
Shah Jalal's date and place of birth are unclear. Various traditions and folklore suggest different possibilities. A number of scholars claim he was born in 1271 in Konya, Turkey, the son of a Turkish Muslim cleric, who was a contemporary of the famous Persian poet and Sufi saint Rumi. Shah Jalal was educated and raised by his maternal uncle, Syed Ahmed Kabir, in Mecca. He excelled in his studies, became a Hafiz (one who has committed the Qur'an to memory), and achieved Kamaliyat (spiritual perfection) after 30 years of learning and meditation. His biography was first recorded in the mid 16th century by Shaikh 'Ali (died 1562), a descendant of one of Shah Jalal's companions. According to Shaikh 'Ali's account, Shah Jalal was born in Turkestan in Central Asia, where he became a spiritual disciple of Saiyid Ahmad Yasawi, one of the founders of the Central Asian Sufi tradition.
According to legend, Syed Ahmed Kabir one day gave his nephew Shah Jalal a handful of soil and told him to travel to India, seeking a place to begin the introduction of Islam where the soil was of the same color. Shah Jalal journeyed eastward, meeting different Sufi scholars along the way, and arrived at Sylhet (in modern day Bangladesh) in 1303. During the following years, Shah Jalal devoted himself to propagating Islam and became so renowned that the famous traveller Ibn Battuta (1304-1369) came to meet him in 1345. Ibn Battuta noted that Shah Jalal lived in a cave, where his only item of value was a goat he kept for milk, and that many people visited him to seek guidance. Writing of Shah Jalal in his travelogue, the Rihla (The Journey) Ibn Battuta says:
'he was numbered among the principal saints, and was one of the most singular of men. He had done many noteworthy acts, and wrought many celebrated miracles. He used to remain standing (in prayer) all night. The inhabitants of these mountains received Islam from his hands, and it was for this reason that he stayed among them.'
The exact date of Shah Jalal's death is debated, but Ibn Battuta claims he died on March 15, 1346. He left behind no descendants and was buried in Sylhet in a dargah (tomb shrine), which is located in a neighborhood now known as Dargah Mahalla. His shrine is famous throughout Bangladesh, with tens of thousands of devotees visiting each year. In the evenings, candles light the tomb and outside the shrine are two large ponds, one filled with catfish and the other with gold fish, both of which are considered sacred.
Shah Jalal's name is strongly associated with the spread of Islam in Bangladesh and the largest airport in the counry, Hazrat Shah Jalal International, is named after him. Not far from the shrine of Shah Jalal is the shrine of Shah Paran, who is believed to be Shah Jalal's nephew.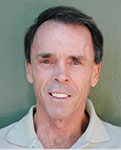 Martin Gray
is a cultural anthropologist, writer and photographer specializing in the study of pilgrimage traditions and sacred sites around the world. During a 40 year period he has visited more than 2000 pilgrimage places in 165 countries. The
World Pilgrimage Guide
at sacredsites.com is the most comprehensive source of information on this subject.