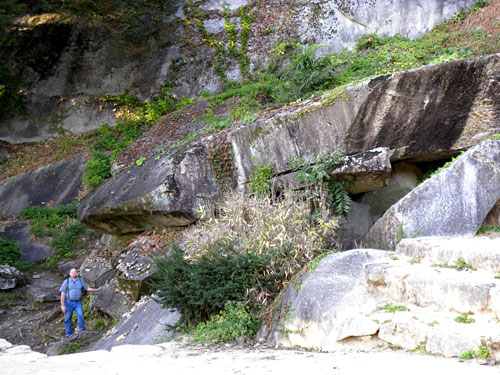 Buseok 'Floating Rock', Buseok-sa Temple, Sobaek-san
The "Lesser White Mountains" is now a huge sprawling National Park, on the borders of North Gyeongsang, North Chungcheong, and Gangwon Provinces; its peaks continue the "Baekdu-daegan" spine of Korea westwards from Taebaek-san. It is thought of as Korea's main "residence" of Biro-bul [Vairocana the Buddha of Cosmic Light], and several of its peaks and temples are devoted to that deity. In the Yeongju City sector sits Buseok-sa [Floating-Rock Monastery] at Seondal-bong [Meditation-Moon Peak] (1236m), founded in 676 by Great Master Uisang to propagate the Hwaeom [Hua-yen] doctrines. Still today one of Korea's most important Buddhist temples, it's famous for its beautiful and geomantically-ideal setting and architecture, including its Main Hall, Korea's oldest large wooden building. Nearby is the Seosu-seowon [Western-Water Academy], in Punggi Town of Yeongju City. This was the first Neo-Confucian private school built in Korea, founded by renowned scholar Toegye Yi Hwang in 1550; it contains the shrine and museum for the Sage An Hyang, who brought Neo-Confucianism from China to Korea in the 14th Century. Many people who value the ancient Confucian ideals visit here.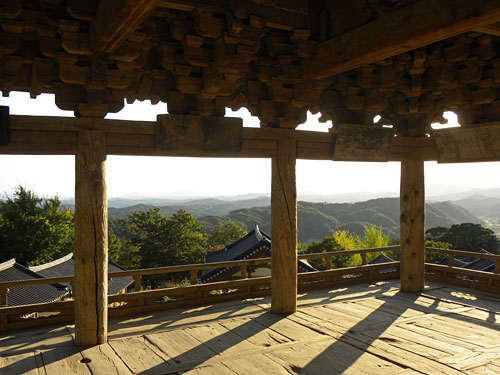 Anyang-ryu Pavilion, Buseok-sa Temple, Sobaek-san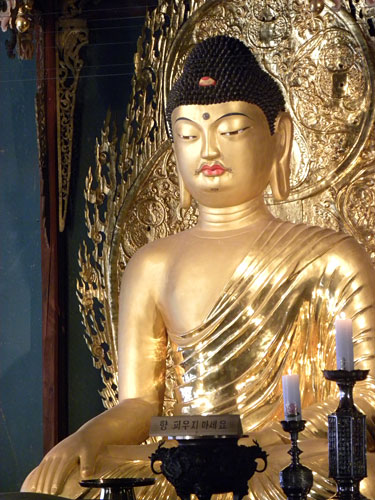 Buddha statue, Buseok-sa Temple, Sobaek-san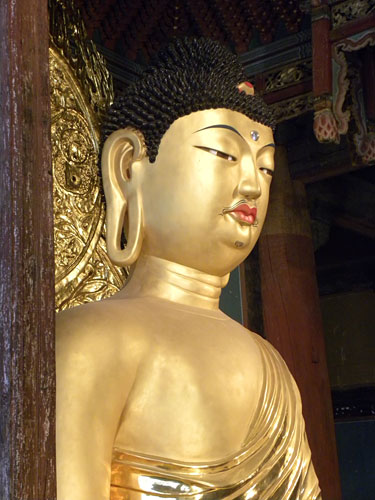 Buddha statue, Buseok-sa Temple, Sobaek-san

Sanshin Mountain-spirit, Buseok-sa Temple, Sobaek-san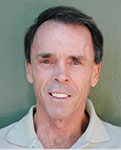 Martin Gray
is a cultural anthropologist, writer and photographer specializing in the study of pilgrimage traditions and sacred sites around the world. During a 40 year period he has visited more than 2000 pilgrimage places in 165 countries. The
World Pilgrimage Guide
at sacredsites.com is the most comprehensive source of information on this subject.
For additional information by Professor David Mason, visit san-shin.net.

For information about traveling to Korean sacred sites, contact Roger Shepherd.