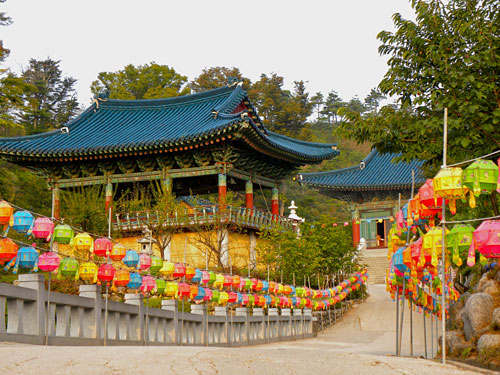 Naksan-sa Temple
Naksan-sa [Potalaka Temple] is part of a Provincial Park on the northern east coast in Yangyang County of Gangwon Province. Founded in 678 by Great Master Uisang, this temple and the 108m hill it sits on are named after the Indian residence of Avalokitesvara the Bodhisattva of Compassion. It features a large stone statue of him, and down on the seaside crags contains Hongryeon-am [Red Lotus Hermitage], one of Korea's 33 special shrines for that Bodhisattva, and also a major site for worship of the Shamanic Dragon-King of the Waters. Many upper buildings of Naksan-sa were tragically burnt down in 2005, but they have been fully rebuilt.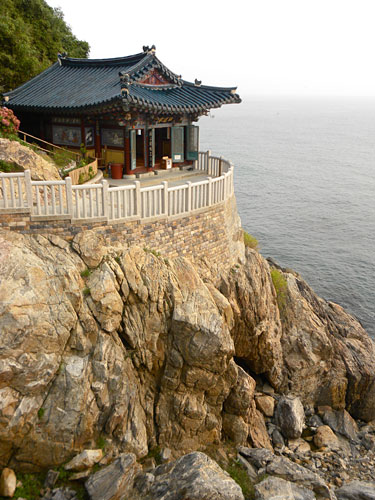 Naksan-sa Temple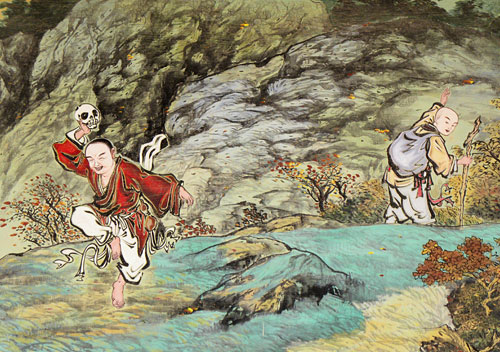 Painting of Wonhyo & Uisang brothers, Naksan-sa Temple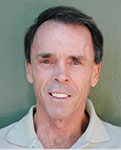 Martin Gray
is a cultural anthropologist, writer and photographer specializing in the study of pilgrimage traditions and sacred sites around the world. During a 40 year period he has visited more than 2000 pilgrimage places in 165 countries. The
World Pilgrimage Guide
at sacredsites.com is the most comprehensive source of information on this subject.
For additional information by Professor David Mason, visit san-shin.net.

For information about traveling to Korean sacred sites, contact Roger Shepherd.